Market trends
Market trends
Urbanisation
By 2050 it is expected that 70% of the world's population will live in urban areas and cities, compared to 50% today1. This will increase the population and the demand for parking in large cities and reduce demand in smaller cities and the countryside.
Q-Park expects the number of cars in cities to increase in the coming 10 to 20 years, putting pressure on existing facilities and infrastructure. Q-Park sees opportunities here for parking capacity management and for developing innovative, multifunctional parking and mobility solutions in collaboration with commercial and governmental stakeholders.
Changing customer behaviour
With the rise in online shopping, the traditional shopping experience in town and city centres is evolving. Consumers make fewer physical visits to shop in town and city centres and when they do decide to 'go shopping' they turn it into a full-day 'experience' often followed by an evening out.
This is shifting the pattern of physical shopping from smaller town locations to larger urban centres. We expect this to create more demand for increased parking capacity management to improve access to the larger cities, with a corresponding fall in demand for locations in areas that are contracting.
Sharing economy
In our stakeholder dialogues we hear many questions on the trend towards the sharing economy, and more specifically, car sharing. As a strong supporter of initiatives to support sustainable mobility, Q-Park already provides parking spaces to car sharing service providers and their customers. At this time, we view car sharing as a positive development and do not anticipate it having a major impact on our business. Naturally, we are following developments with interest.
Turning motorists into pedestrians
The city of Brussels has set ambitious targets to reduce motorised traffic by 20% in 2018 (base year 2001) and for 40% of all mobility in the city to be on foot in 2040.
The underlying philosophy is that to improve the quality of life, mobility and the environment, the city must adapt to reflect the human scale and find alternatives for the need to move around by car.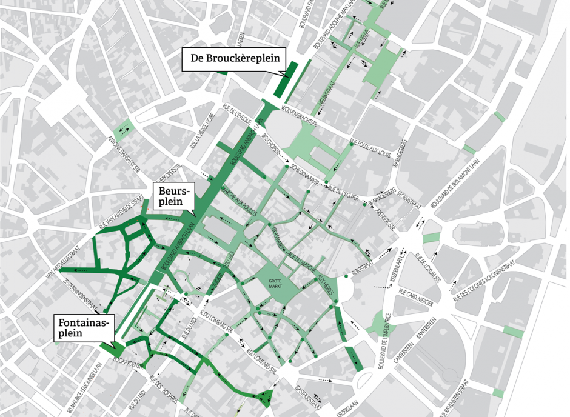 The starting point of the Brussels plan is the assumption that everyone is a pedestrian and that responding to pedestrian needs should become the reflex for all actors in mobility and city planning.
On-street parking replaced by car parks
To create more pedestrian space, on-street parking is to be replaced by underground parking facilities and by relocating and building up to 20,000 parking spaces at the edges of the pedestrian zone.
Great opportunity for
Q-Park
With 8 parking facilities in and around Brussels city centre to date, Q-Park is in an excellent position to work with the city of Brussel on mobility and city planning. Facilitating its residents, commuters and visitors with purpose built parking facilities at convenient locations.
Digitisation
Technology is developing rapidly and affecting the way business is conducted. The advances are far reaching, from personal information to big data.
When we talk about digitisation we must consider what ICT means to our customers and the services we provide, as well as the implications for our own business. Good ICT systems enable us to operate more efficiently, and make our processes trustworthy and controllable.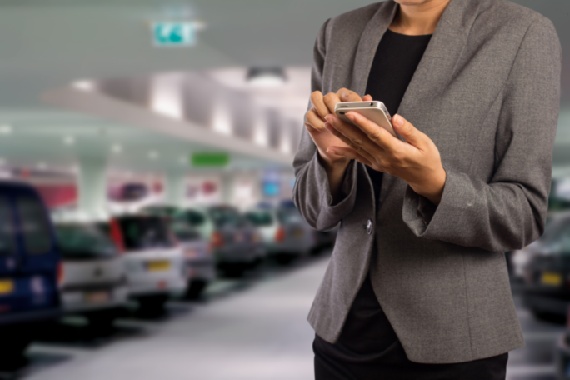 What the digitised society has come to expect
People are becoming increasingly 'digitised': our customers expect to see the nearest available parking spaces through their in-car GPS. They expect to pre-book a parking space online, receive an e-invoice, and be able to pay online.
They are happy to identify themselves through number plate recognition if that makes entering and leaving a parking facility quicker and safer. And they are happy to pay for parking via an app or a bankcard instead of cash. As well as using the Q-Park app, customers are also using parking provider apps.
Local authorities are also turning increasingly to digital solutions (e.g. number plate recognition) to reduce the costs of enforcing parking policies.
At the forefront in ICT
Q-Park is a front runner in the parking industry when it comes to technology. Our scale allows us to make the substantial investments required to adapt to and benefit from digitisation in the industry.
In response to digital and payment trends, changes in customer needs and behaviour, and the evolution of smart cities, we are constantly developing our parking management systems and our operational processes.
Autonomous vehicles
The development of full autonomous vehicles (AVs) for private and shared use requires a huge technological leap and investment from car manufacturers and poses major infrastructure challenges to spatial planners. This development has far-reaching implications which are currently being debated by manufacturers, consumer groups, insurers, lawyers, and politicians.
AVs have the potential to be a true disrupter in the automotive industry and in the public transport and infrastructure domains.
While our expectation is that the advent of full AVs will not make an impact on our business before 2035, like many actors in the mobility services industry, Q-Park is tracking developments with great interest.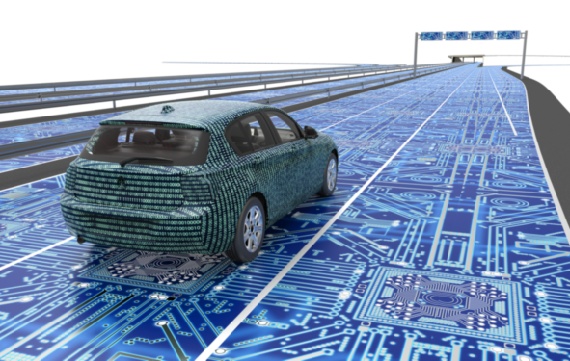 Source: PBL Towards a world of cities in 2050