Ambition
Ambition
Q-Park's strategic ambition is to be the strongest European car parking operator that best understands and seizes car parking market opportunities. Our strategic focus is to create value for all stakeholders: shareholders, landlords, municipalities, motorists, and employees.
To provide a dynamic response to external events and market trends our strategy is built on five pillars: strong locations, differentiated propositions, digital and pricing capabilities, operational excellence, and becoming a proactive learning organisation.

Our continuous focus on innovation underpins these five pillars.
Portfolio of strong locations
Q-Park has achieved leading market positions across North-Western Europe. Responding to and anticipating urbanisation and mobility trends, we focus on countries with attractive market dynamics where we can build a portfolio of strong locations.
By building scale in these locations we achieve operational, cost, and revenue synergies and, furthermore, we offer multiple solutions for different customer requirements. Additionally our scale, local experience, and market intelligence make us a valuable partner for municipalities as they develop long-term mobility policies.
Our acquisition of a parking company in Hasselt (Belgium) which included four car parks and the awarded contract by the city of Toulon (France) for 10 car parks are good examples of building scale at attractive locations.
Differentiated contract types and propositions
One of our key strengths is the ability to adapt our proposition based on contract type and risk/return profile. Q-Park currently operates all main contract types: legal ownership, ground lease, concession, protected lease, lease, and management contracts.
While Q-Park quality is guaranteed for all contract types, the level of investment varies according to the expected risk/return profile.
Digital and pricing capabilities
Q-Park's digital strategy is evolving rapidly in response to digital and payment trends, changes in customer behaviour, and the evolution of smart cities. We are currently developing new platforms to ensure a seamless customer journey for all our stakeholders.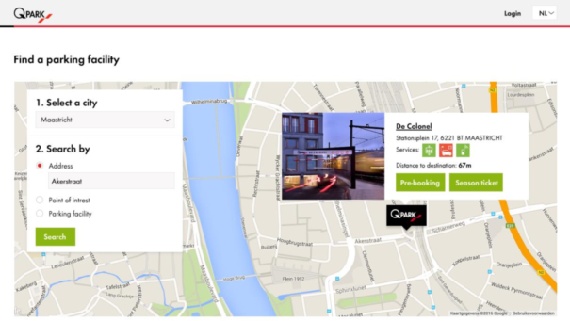 Our online portal for pre-booking parking spaces and buying season tickets as well as our CCV payment solution which enables motorists to access and exit our car parks, are good examples of our digitised developments.
Digitisation and market intelligence are the foundation for optimised parking tariff structures.
One of the most effective optimised parking tariff scheme is operational in Maastricht (the Netherlands).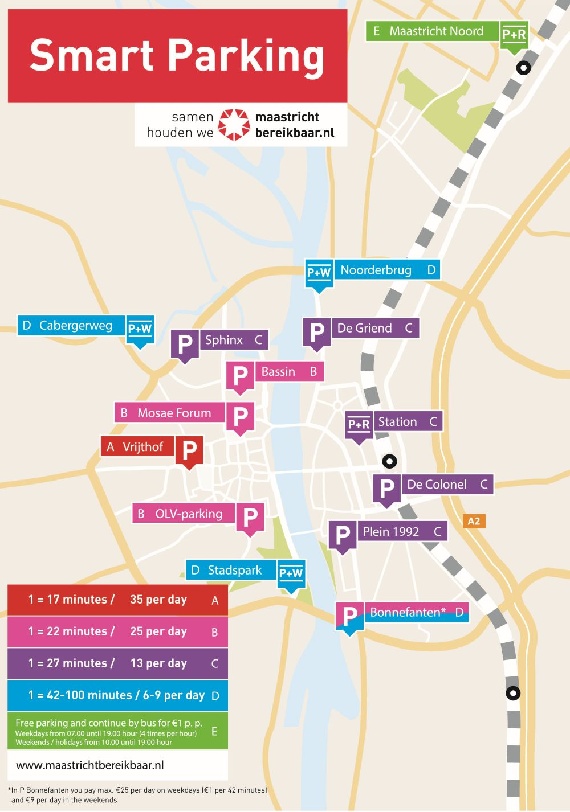 Operational excellence
It is our ambition to provide exceptional quality in parking which meets customer needs for online or offline convenience, reliability, and hospitality.
Functional design
Q-Park parking facilities are characterised by a high level of safety and security (glass elevators, no hidden corners), routing and design for ease of access and minimal parking manoeuvres (angled spaces, no kerbs) as well as high standards of cleanliness.
Our dedicated in-house real estate and functional design teams are unique in the industry. Their work ensures a quality parking experience and a recognisable house style which adds value for landlords and customers on-site and is attractive for municipalities and purpose partners.
Functional programmes
Q-Park

Control Room (QCR) -

Q-Park

is the only player in the European parking industry which offers an international help desk available to customers 24/7. QCR gives customers instant access to multilingual Parking Hosts in a

Q-Park

operated central control room.
On-site Parking Hosts provide help and support with queries relating to the payment system or to accessing or exiting the parking facility.
Operations 2.0 - The QCR was central to the success of our original Operational Excellence programme. Operations 2.0 restructures the facility operations into specialised groups: technical and constructional maintenance, cleaning maintenance, and hospitality services.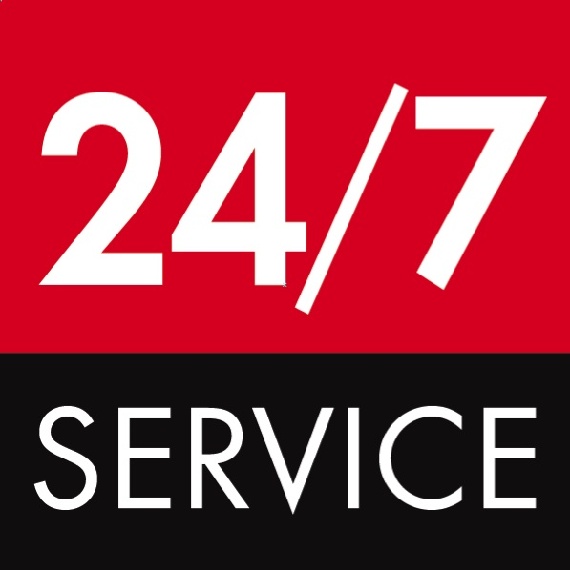 Following the rollout to the entire organisation, Operations 2.0 has reduced the number of customer complaints and working hours for Parking Hosts, has lowered costs and incidents related to Parking Management Systems, and has achieved savings on maintenance and cleaning costs. Not only did Operations 2.0 generate proven cost savings, it also helped to improve quality, customer satisfaction, and employee engagement.
Proactive learning organisation
The regional structure introduced in 2015 facilitates cross-pollination across borders, particularly in ICT and acquisition projects. We have set up several platforms for exchanging information and best practice, helping us to quickly identify what works best to create value for our stakeholders.